What Did We Learn In The Webinar?
One of the speakers was Australian Telepsychiatry founder Prof. Richard Harvey. We summarized Harvey's speech emphasizing the effects of the Pandemic on the mental health of healthcare workers and what we can do in return.
Prof. Harvey talked about the importance of being aware of our mental health, taking care of each other, and celebrating our successes together, especially after adversity.
He explained that with PPE, masks and social distance rules, our contact with each other is reduced, we can establish less personal bonds, and that everyone is too busy and tired, and there is no time to ask for advice and support, which causes Professional Isolation.
We receive ever-changing advice from healthcare professionals, leaders, politicians. He said that the fear of uncertainty, fear of carrying infection to the house, fear of not knowing how the new normal will be experienced intensely. He stated that as a result of not being able to establish a connection, concerns about how we will come together and provide support with each other have increased.
He emphasized that uncertainty demands fear and change, which makes us feel lonely, even at work.
So what can we do?
Prof. Harvey's Suggestions;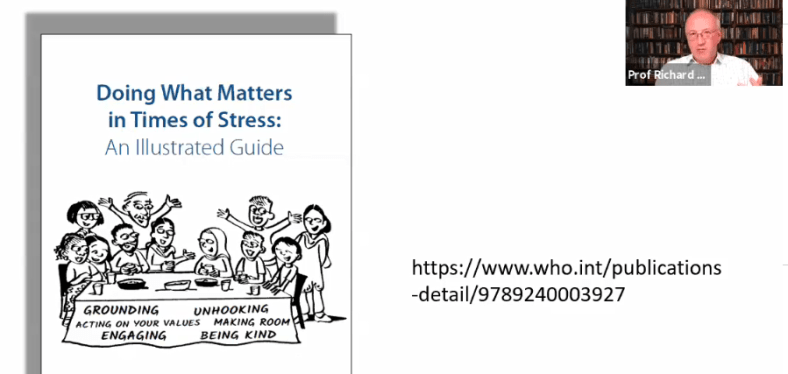 The Doing What Matter In Times Of Stress published by WHO is available as an illustrated guide podcast consisting of 6 chapters.
     In the guide;
Grounding
Act on your values
Get rid of the hook Take time for yourself be with your family.
Courtesy-being gentle -> works both ways for both yourself and your colleague. It motivates people in difficult and stressful times.
Connecting ->  don't cut your relationship – act as a mentor, let the person say I'm here when you need something.
Join peer support group / peer support groups.
Psychiatrists in Australia have to be part of such a group. There should be such compulsory groups among professionals (between physician-nurse pharmacist). Meta-analyzes conducted among group members showed that healthcare workers felt happier and more competent.
Try joining groups such as the Covid-19 Peer Support Facebook group.
Mindfulness is extremely important. Michael Chaskalson's 8-week Mindfulness program can be useful. A podcast with free 20 or 40 minute sessions. I recommend it to my patients and friends. An effective strategy for reducing anxiety.